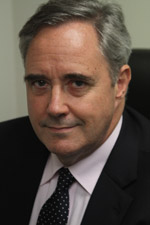 Peter Mills
T (852) 2851 6999
D (852) 2851 9931
F (852) 2851 6889
M (852) 9861 4022
E
pmills@hartgiles.com
Peter Mills is a dispute resolution lawyer with particular emphasis on maritime matters. These include:
Salvage, Collision, Total Loss of Ships and Cargoes; Cargo Claims, Fire, Pollution, General Average, Protection & Indemnity and Marine Insurance.
Wreck Removal, Scrap Sales, Disposal of Distressed Cargoes and Damage to fixed and Floating Objects.
Trade Disputes, Charterparty Disputes, Bill of Lading Claims, Pilotage and Arrest of Ships.
Crisis and Casualty Management, Unsafe Berth and Port Disputes, Performance Disputes and Personal Injury and Death Claims.
International Enforcement of Awards and Judgments.
Sale and Purchase of Ships and cargoes.
He was admitted as a Barrister & Solicitor in New Zealand in 1979, as a Solicitor in England & Wales in 1984 and as a Solicitor in Hong Kong in 1990.
Peter is currently the Secretary of the Hong Kong Maritime Law Association.